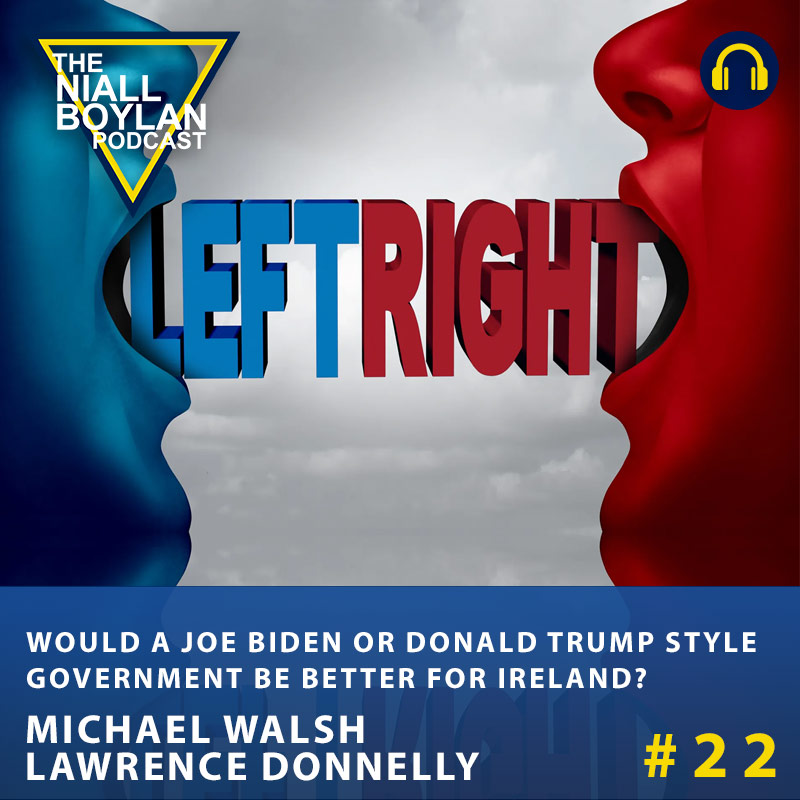 Would A Joe Biden Or Donald Trump Style Government Be Better For Ireland Episode 22
play_circle_filled

Would A Joe Biden Or Donald Trump Style Government Be Better For Ireland Episode 22
Niall Boylan
In this engaging episode, Niall sits down with two distinguished guests, Lawrence Donnelly and Michael Walsh, to discuss the political landscape and potential influences of the American political styles on Ireland.
Lawrence Donnelly, an Irish-American law attorney, writer, and political contributor residing in Ireland, brings his unique perspective on the topic. With his legal expertise and deep understanding of Irish and American politics, he offers insightful analysis and thoughtful observations.
Michael Walsh, an American author, screenwriter, and cultural-political consultant, contributes his wealth of knowledge in both the literary and political realms. Known for his sharp insights, he provides a compelling viewpoint on the potential impact of different political styles.
The conversation revolves around contrasting the leadership styles of former U.S. Presidents Donald Trump and Joe Biden, as well as the emerging political figure Ron DeSantis. The guests examine the potential implications of these styles for Ireland and explore how they may shape the future of politics.
As the discussion unfolds, Niall opens the lines for callers to express their views. The topic broadens to whether Ireland would benefit from a liberal or conservative government. The majority of callers express their desire for a firm and no-nonsense government, echoing the need for effective governance with few dissenting opinions.
Tune in to this episode as Niall, Lawrence Donnelly, and Michael Walsh delve into the nuances of political leadership, sharing insights and engaging with callers to explore the question of what style of government would be better for Ireland.
---