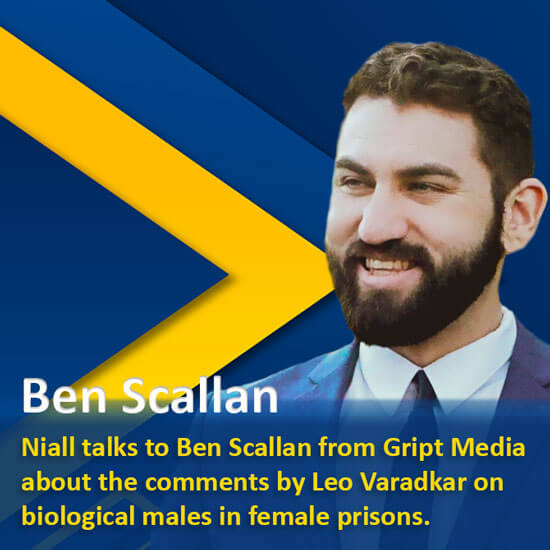 Ben Scallan (Gript Media) talks about comments by Leo Varadkar on biological males in female prisons
play_circle_filled

Ben Scallan (Gript Media) talks about comments by Leo Varadkar on biological males in female prisons
Niall Boylan
Niall talks to Ben Scallan from Gript Media about the comments by Leo Varadkar on biological males in female prison
An Taoiseach, Leo Varadkar, has said that violent biological males should not be put into women's prisons, as controversy grows around the placement of transgender sex offenders into Limerick women's jail.
Addressing a question from Gript's Ben Scallan, Mr Varadkar said the law may need to be changed to ensure women prisoners are protected..
Journalist with Gript Media asked Leo this very important question and we talked to Ben about Mr Varadkars reponse.
Mr Varadkar said that he had only heard about the case for the first time at the weekend.
Pressed by Scallan, an Taoiseach said that he needed to look into the case and discuss it with Minister for Justice, Simon Harris.
"In principle, do you believe that violent biological males should be put into in women's prisons?" Scallan asked.
"No, I don't, frankly," Varadkar replied.
"I know that a similar situation arose in Scotland, and it was necessary to change the law to make sure that women were protected," he said.
Kardashian has been sentenced to five and a half years in jail after being found guilty of seven counts of threatening to kill, rape, torture or cause serious harm to his mother.
The sentencing judge, Tom O'Donnell, said that the psychiatric reports on Kardashian made for "chilling and disturbing" reading
---
Together, we can keep the conversation alive. Click the 'Donate' button and be a vital part of our podcast's future. Thank you for being an essential member of our community!

Latest Podcasts

Newsletter
---