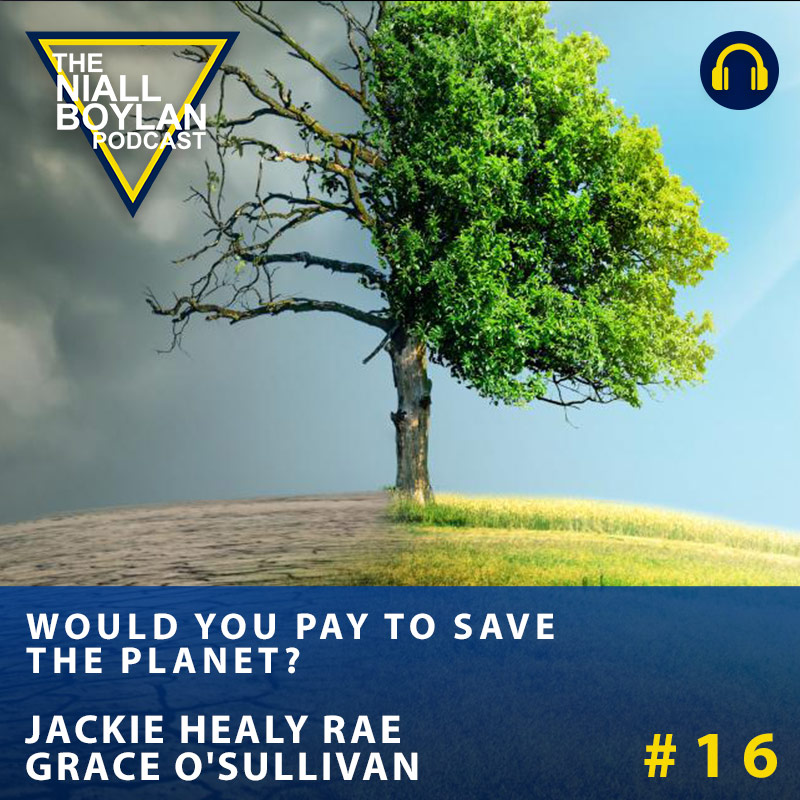 Would You Pay To Save The Planet? Episode 16
play_circle_filled

Would You Pay To Save The Planet? Episode 16
Niall Boylan
Get ready for a captivating episode of The Niall Boylan Podcast as we tackle the pressing question: "Would You Pay to Save the Planet?" Join Niall as he engages in a dynamic discussion with Grace O'Sullivan, a passionate Member of the European Parliament from the Green Party, and Jackie Healy Rae, an outspoken Independent Councillor representing the Castleisland Lea on Kerry County Council.
In this electrifying conversation, Niall explores the financial landscape of environmental preservation. Jackie raises valid concerns about the potential negative impact on local farmers and producers, highlighting the carbon emissions resulting from the transportation of wood pellets from faraway places. Meanwhile, Grace fervently defends her belief in the urgent need for greener policies and emphasizes the crucial role Ireland must play to protect the future of our planet.
The podcast becomes a battleground of ideas as the guests engage in passionate and heated exchanges, prompting Niall to skillfully referee the discussion. The debate examines the economic and ecological consequences of different approaches, with both guests staunchly defending their positions.
As the episode progresses, Niall opens the lines for callers to share their perspectives. Callers express reservations about shouldering additional financial burdens to save the planet, citing the already skyrocketing cost of living, including exorbitant petrol and electricity prices. Many callers echo Jackie's sentiment, accusing the Green Party of hypocrisy in their policies.
In the closing moments of the podcast, Niall offers a comprehensive summary, shedding light on the economic and financial challenges Ireland faces in its pursuit of a greener future. The episode showcases the passionate defense of environmental responsibility put forth by Grace, highlighting the urgent need for collective action to safeguard our planet's future.
Join The Niall Boylan Podcast for a captivating and provocative exploration of the price tag attached to saving the planet. Immerse yourself in the passionate exchanges, fiery debates, and diverse perspectives as we seek to comprehend the intricate balance between environmental conservation and the economic realities we face.
---