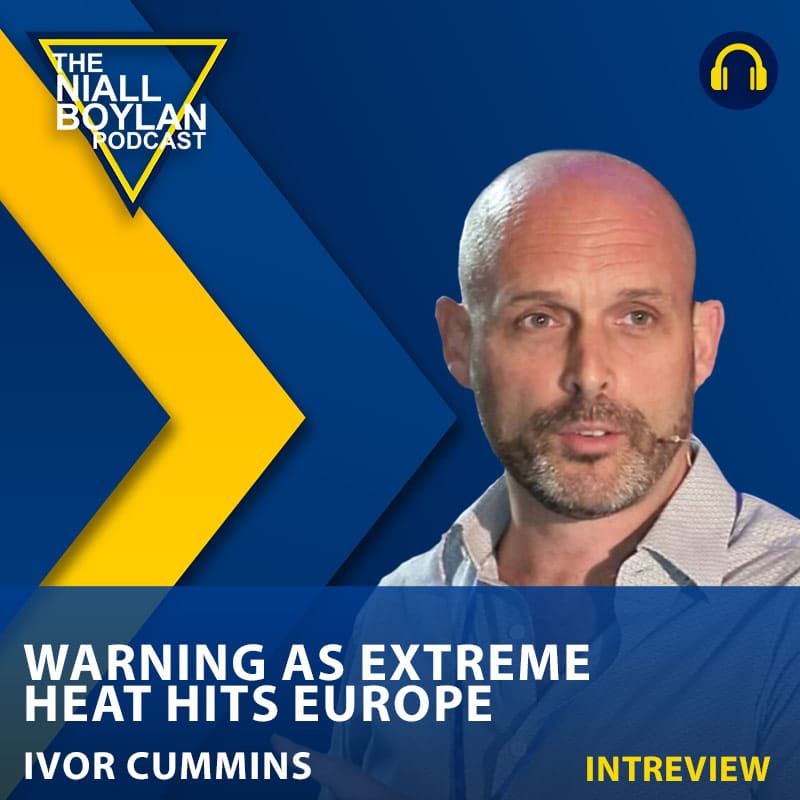 Warning As Extreme Heat Hits Europe With Ivor Cummins
play_circle_filled

Warning As Extreme Heat Hits Europe With Ivor Cummins
Niall Boylan
As Europe is told they face an extreme heat wave, fear and alarm have spread across the continent, fueled by media scaremongering about the severity of the situation. In this episode, Niall sits down with Ivor Cummins, a Technical Manager, Biochemical Engineer, Complex Problem Solving Specialist, and Technologist, to delve into the science behind the heat wave and dispel any unwarranted concerns.
Ivor Cummins, renowned for his expertise in complex problem-solving and his scientific background, sheds light on the actual reality of the heat wave. He addresses the public's fears by presenting a comprehensive analysis of the climate situation and explaining the science behind climate change. Through evidence-based insights, Ivor seeks to calm the anxieties and misconceptions propagated by media sensationalism.
Throughout the interview, Ivor emphasizes the importance of data-driven decision-making and critically evaluating the information provided by the media. He points out that the real situation might not be as dire as portrayed, and highlights the need for balanced reporting to avoid unnecessary panic.
Niall and Ivor engage in an informative and thought-provoking discussion, providing listeners with valuable knowledge about climate change and extreme weather events. They explore the factors contributing to the heat wave and discuss the broader implications for climate science and public perception.
In an era dominated by sensational headlines and alarming news coverage, this episode aims to empower listeners with a deeper understanding of the climate situation in Europe. By fostering a rational and evidence-based approach to the issue, Niall and Ivor seek to alleviate unnecessary fear and anxiety surrounding extreme weather events.
As the episode concludes, listeners are left with a newfound appreciation for the importance of scientific analysis and critical thinking in navigating media narratives related to climate change. The discussion serves as a timely reminder of the significance of staying informed and discerning while confronting pressing global challenges.
---