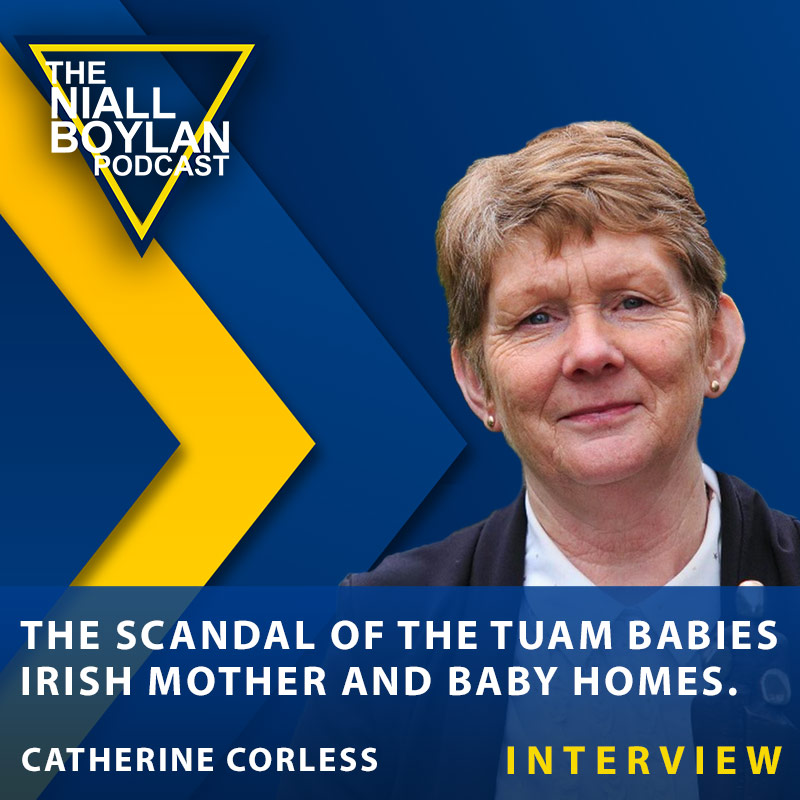 The Scandal Of The Tuam Babies Irish Mother And Baby Homes Catherine Corless Interview
play_circle_filled

The Scandal Of The Tuam Babies Irish Mother And Baby Homes Catherine Corless Interview
Niall Boylan
In this powerful and thought-provoking podcast, esteemed historian Catherine Corless joins host Niall Boylan in an intimate conversation that delves deep into the heart-wrenching and long-held dirty secret of Ireland—the Tuam Mother and Baby Home scandal. Together, they expose the dark history and its enduring impact on countless lives.
With unwavering dedication, Catherine Corless fearlessly uncovers the hidden truths behind the Tuam Mother and Baby Home—a name that has become synonymous with Ireland's dirty secret. Through meticulous research and unrelenting pursuit of justice, Corless brings to light the harrowing experiences of mothers and babies confined within the walls of this institution, a secret that was buried for far too long.
As the podcast unfolds, the chilling reality of Ireland's dirty secret is laid bare, with stories that haunt the collective conscience. Niall Boylan provides a compassionate platform for survivors and affected families to share their heart-breaking narratives. Callers bravely recount their personal experiences, shining a light on the atrocities that occurred within the home, forever etching Ireland's dirty secret into their lives.
In this raw and unfiltered discussion, Catherine Corless and Niall Boylan confront the systemic failures and cultural stigmas that allowed Ireland's dirty secret to persist. They scrutinize the government's role in perpetuating this scandalous chapter, including the recent decision to deny redress payments to those who were under the age of six months at the time of adoption. The omission of redress for these vulnerable infants further deepens the wounds of injustice, leaving survivors and families without the acknowledgement and support they so desperately deserve.
Amidst the anguish and pain, this podcast serves as a rallying cry for truth and accountability. By repeatedly acknowledging Ireland's dirty secret, Catherine Corless and Niall Boylan compel listeners to confront the uncomfortable reality and demand a reckoning for the systemic failures that allowed such atrocities to occur.
Join the conversation, listen to the heart-rending stories, and become a part of the movement to unveil Ireland's dirty secret. This podcast aims to expose the truth, advocate for justice, and foster healing in the face of unimaginable suffering.
---
Together, we can keep the conversation alive. Click the 'Donate' button and be a vital part of our podcast's future. Thank you for being an essential member of our community!

Latest Podcasts

Newsletter
---