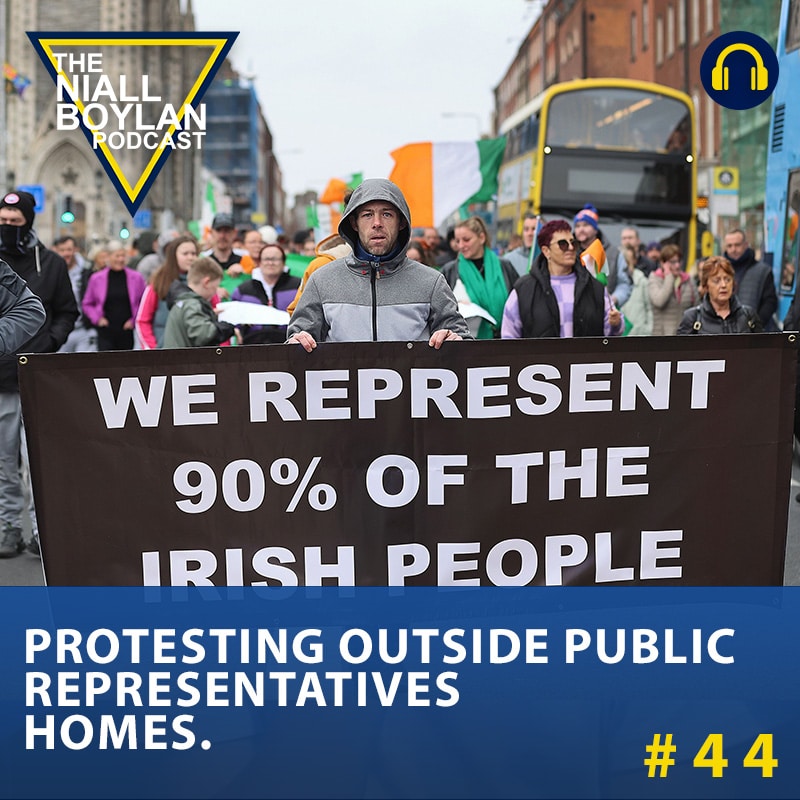 Is It Acceptable To Protest Outside A Public Representatives Home?
play_circle_filled

Is It Acceptable To Protest Outside A Public Representatives Home?
Niall Boylan
In this compelling and provocative episode, Niall engages in a passionate discussion with Malachy Steenson, a Solicitor and Campaigner, to tackle the controversial question: Is It Acceptable to Protest Outside a Public Representative's Home? The topic has emerged following a recent news story involving an Independent councillor in Dún Laoghaire-Rathdown County Council, Hugh Lewis, whose family home was targeted with a rock and a threatening message due to his stance on supporting refugees.
Malachy Steenson, a defender of people's right to protest, presents a compelling case for the importance of peaceful demonstrations as a means of expressing discontent and raising awareness of critical issues. As a campaigner, he shares his insights on the complexities of protests and how they serve as a tool for holding public representatives accountable.
The episode dives into the incident that sparked the discussion, detailing the rock-throwing attack on Councillor Hugh Lewis's family home and the alarming note left behind. Niall and Malachy examine the potential consequences of such aggressive actions and how they affect not just the public representatives but also their families.
Malachy also voices his concerns about the danger of false branding and the labeling of protesters as "far-right," emphasizing the need for fair and unbiased coverage of demonstrations. He stresses the importance of maintaining open dialogue between politicians and the public to prevent further escalations that lead to protesting at representatives' homes.
As the episode unfolds, the lines are opened to callers with differing perspectives on the matter. John O'Dea, a regular caller and protester, voices his support for the right to protest outside public representatives' homes, arguing for the effectiveness of such actions in getting their messages across. On the other hand, Graham, a school teacher, calls for legal measures to prevent protests outside private residences.
The discussion escalates as John and Graham engage in a heated exchange, presenting opposing viewpoints on the boundaries of protest. Regular caller Maureen also joins the conversation, adding fuel to the debate and passionately advocating for the right to protest against decisions made by public officials.
Niall moderates the conversation with his usual poise, ensuring that all perspectives are heard, and addresses the complexities of the issue at hand. Listeners are taken on a thought-provoking journey that examines the delicate balance between peaceful protest and respecting the privacy and safety of public representatives and their families.
As the episode draws to a close, Niall emphasizes the importance of civil discourse and the need to find common ground in a society that values freedom of expression while ensuring the safety and well-being of all individuals involved. This episode serves as a powerful reminder of the responsibilities and rights of both citizens and public representatives in a democratic society.
Is It Acceptable To Protest Outside A Public Representatives Home?
Yes : 3

No : 0

Not Sure : 0
Total Votes: 3
---