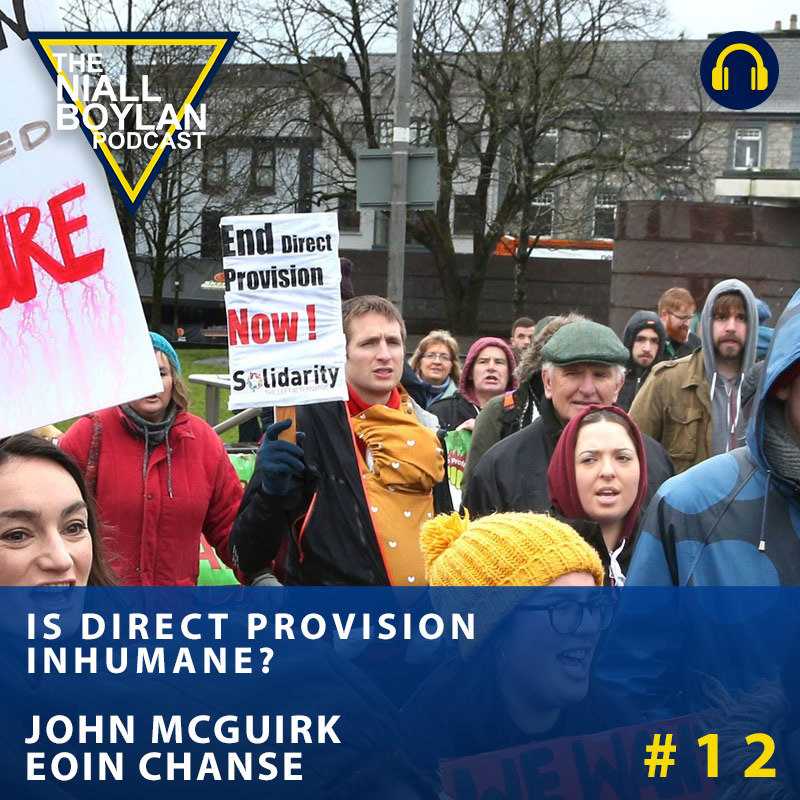 Is Direct Provision Inhumane? Ep12
play_circle_filled

Is Direct Provision Inhumane? Ep12
Niall Boylan
In this episode we delve into the highly contentious topic: Is Direct Provision inhumane? In this captivating discussion, Niall invites two distinguished guests to offer their unique viewpoints. John McGuirk, a journalist from Gript Media, brings a pragmatic perspective on asylum seekers, advocating for a more rigorous asylum process, including prompt deportation for denied applicants. Eoin Chanse, chairperson of ADPI (Abolish Direct Provision Campaign), offers a compassionate stance, emphasizing government responsibility and debunking misconceptions surrounding asylum seekers.
Throughout the podcast, John eloquently argues in favor of asylum seekers receiving the necessary support and assistance but asserts the need for a stricter asylum process. He highlights the importance of swift deportation if asylum claims are denied, stressing the significance of maintaining the integrity of the system. On the other hand, Eoin approaches the issue with empathy, placing the blame on the government for the current state of the asylum process. He passionately addresses prevalent misconceptions about asylum seekers, fostering a greater understanding of their plight.
The merits of rectifying the system are vigorously debated, with both guests ultimately agreeing on its shortcomings. The discussion sheds light on the unfair conditions that asylum seekers endure within their accommodations. Additionally, the financial strain on the system and its negative impact on Irish citizens are explored, highlighting the complex dynamics at play.
The conversation delves into the societal perception of individuals expressing concerns about the influx of asylum seekers, often labeling them as right-wing or racist. The guests candidly question why it's challenging to discuss asylum seekers without being subjected to such branding. Furthermore, the podcast explores the alarming rise in attacks on asylum seeker accommodations, attributing the anger of Irish citizens to a perceived lack of government responsiveness.
Ultimately, the discussion concludes with an emphasis on the collective responsibility to effect positive change. Guests stress the importance of utilizing democratic processes to reform the system, ensuring better outcomes for both the citizens of Ireland and the asylum seekers the nation welcomes.
Join Perspectives Unveiled as it confronts the complexities of Direct Provision, providing a platform for diverse perspectives to enlighten and empower listeners. Through candid conversations, the podcast seeks to inspire dialogue, understanding, and constructive action for a more humane and equitable system that benefits all stakeholders involved.
---