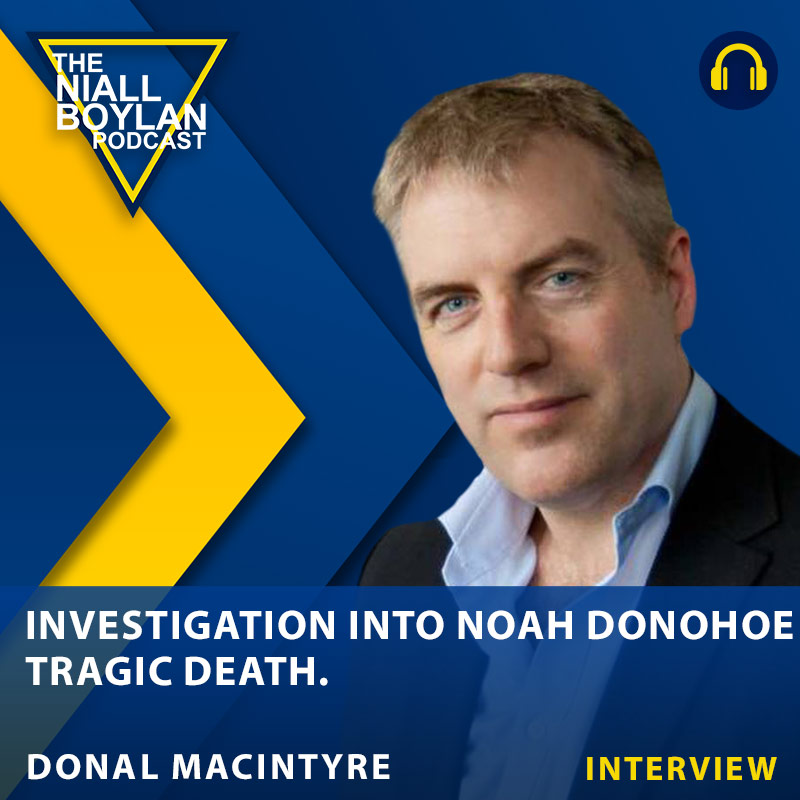 Donal Macintyre Demands Answers From PSNI Over Tragic Death 14 Year Old Noah Donohoe Episode 27
play_circle_filled

Donal Macintyre Demands Answers From PSNI Over Tragic Death 14 Year Old Noah Donohoe Episode 27
Niall Boylan
In this gripping episode titled "Donal Macintyre Demands Answers From PSNI Over Tragic Death of 14-Year-Old Noah Donohoe," Niall engages in a compelling conversation with Donal Macintyre, an esteemed Irish investigative journalist renowned for his work in undercover operations and television exposés.
The episode delves into the shocking case of Noah Donohoe, a 14-year-old boy from Belfast, Northern Ireland, whose disappearance and tragic death left the community in turmoil. Niall and Donal explore the perplexing events surrounding Noah's untimely demise.
Listeners will learn about the bewildering CCTV footage that captured Noah's last-known movements. Starting with Noah riding his bike naked through a busy street, mysteriously losing his backpack along the way, and later being spotted miles away without his helmet, the sequence of events raises numerous questions about what transpired on that fateful day.
The episode delves into the tireless search efforts of the community, as volunteers rallied to assist in locating Noah. Despite the recovery of his bicycle and cell phone, Noah's clothing remained missing, adding to the intrigue of the case.
Donal Macintyre, having been contacted by Noah Donohoe's family to help unravel the truth, shares his insights and experiences as an investigative journalist in cases of this nature. Listeners will gain a deeper understanding of the family's concerns and their belief that the Police Service of Northern Ireland (PSNI) failed to conduct a thorough investigation.
As Niall and Donal delve into the story, they discuss the conflicting theories surrounding Noah's death. While official reports attribute his demise to drowning after a fall from his bike, Noah's family raises doubts about this explanation. They point out the lack of significant water damage to his body and the absence of expected injuries caused by exposure to sewage in the storm drain where he was found.
Through their conversation, Niall and Donal Macintyre shed light on the family's relentless pursuit of justice, their dissatisfaction with the official narrative, and their demand for transparency from the PSNI.
Join Niall and Donal Macintyre as they navigate the bewildering case of Noah Donohoe, examining the enigmatic circumstances, unraveling the inconsistencies, and demanding answers from the authorities in this deeply engaging and thought-provoking episode.
---