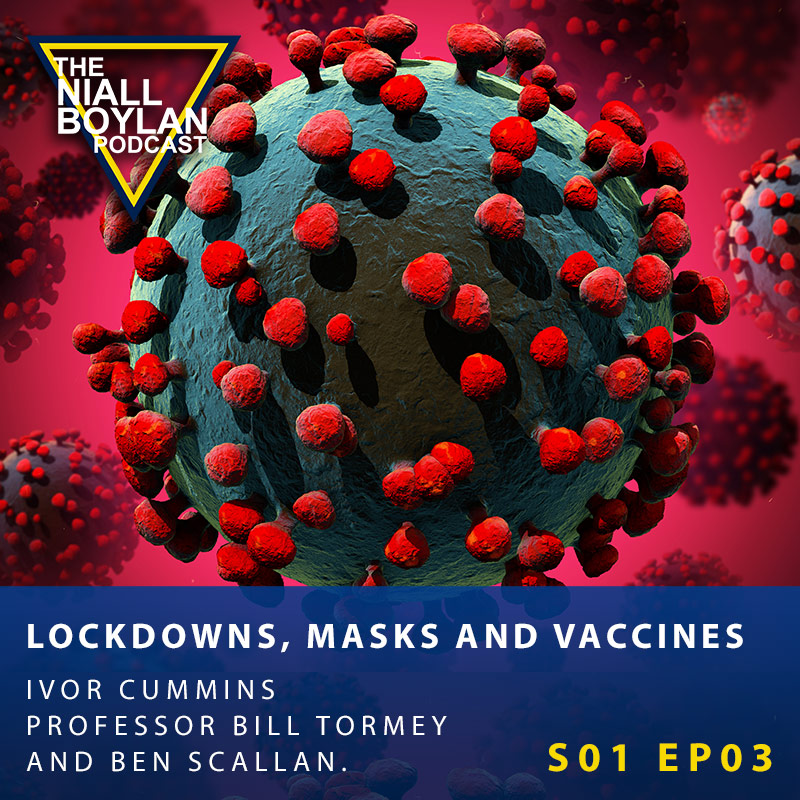 Niall talks about Covid Lockdowns, masks and restrictions and were they a waste of time?
play_circle_filled

Niall talks about Covid Lockdowns, masks and restrictions and were they a waste of time?
Niall Boylan
In this thought-provoking podcast episode, Niall delves deep into the contentious topics surrounding COVID-19, including lockdowns, masks, and vaccines. Joined by esteemed guests Professor Bill Tormey, Editor-in-Chief of the Irish Journal of Medical Science, and Ivor Cummins, a distinguished biochemical engineer, the episode scrutinizes the effectiveness and consequences of various pandemic measures.
The conversation kicks off by examining the impact of lockdowns, particularly Ireland's enduring experience as the second-longest lockdown in the world. As the discussion unfolds, Niall, Professor Tormey, and Ivor Cummins dissect how vulnerable populations bore the brunt of these restrictions, leading to disparities in access to resources, healthcare, and quality of life. The trio uncovers the hidden costs of lockdowns – from economic upheaval to mental and physical health repercussions – painting a comprehensive picture of the multifaceted toll these measures have taken.
A critical analysis of mask usage follows, with Niall and his guests exploring both the benefits and limitations of masks in curbing COVID-19 transmission. They delve into intriguing findings from recent studies, revealing surprising insights into the comparative effectiveness of countries with varying levels of restrictions. The discourse leads to an exploration of the societal division that arose due to differing mask-wearing behaviors.
The episode then pivots to vaccines, tracing the evolving narrative from initial promises of full protection to the nuanced reality of reduced severity. The hosts dissect the controversial revelation that vaccine efficacy in terms of transmission was not thoroughly tested, raising questions about the information disseminated to the public. The vilification of vaccine skeptics and the societal repercussions of such divisions are tackled head-on, revealing a complex web of attitudes and consequences.
The podcast confronts the issue of encouraging children to wear masks and the potential disconnect between these efforts and their actual impact. The decision to vaccinate children against a virus with perceived low risk becomes a focal point, juxtaposed against countries that have taken different approaches.
As the episode draws to a close, Niall invites listeners to share their personal experiences with COVID-19, lockdowns, and related challenges. In a candid and introspective moment, he prompts reflection on the lasting effects of this unprecedented era.
"Unmasked Truths: COVID-19 Lockdowns, Masks, and Vaccines" is an eye-opening exploration of the global response to the pandemic, shedding light on the intricate interplay between public health measures, individual choices, and societal consequences. Through informed conversations and critical analysis, Niall and his guests invite listeners to consider the nuanced complexities of a world forever changed by the pandemic.
---